COMMON NON-VERBAL MISTAKES MADE DURING JOB INTERVIEWS ARE FOLLOWING:
67% Fail to make eye contact
47% Have little knowledge of the company
38% Don't smile
33% Have bad posture
33% Fidget too much
26% Have weak handshake
21% Cross their arms over their chest
21% Play with their hair or touch their face
9% Use too many hand gestures
In a survey of more than 2,000 hiring managers, 33% claimed to know whether or not they would hire someone within 90 seconds.
STATISTICS SHOW THAT FIRST IMPRESSIONS ARE DETERMINED BY
55% The way you dress, act, and walk through the door the quality of your voice, grammar, and confidence the words you choose to say
38% The quality of your voice, grammar, and confidence
7% The words you choose to say
THINGS THAT HAVE AN IMPACT ON FIRST IMPRESSIONS
70% of employers claim they don't want applicants to be overly fashionable or trendy.
65% of hiring manager say clothes can be deciding factors between two similar candidates.
BRIGHTLY-COLORED CLOTHING IS BAD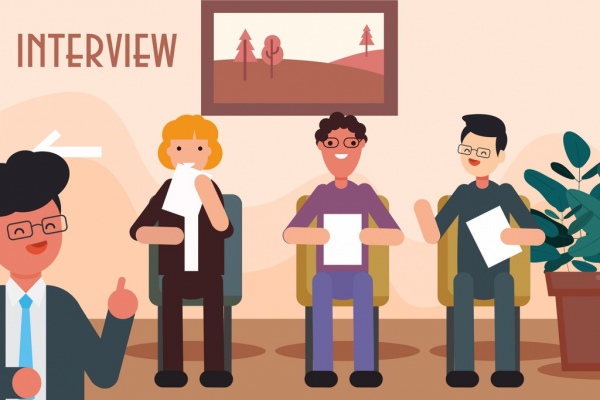 TOP 10 MOST COMMON INTERVIEW MISTAKES
1. Over-explaning why you lost your last job
2. Conveying that you're not over losing your last job
3. Lacking humor, warmth or personality
4. Not showing enough interest or enthusiasm
5. Inadequate research about a potential employer
6. Concentrating too much on what you want
7. Trying to be all things to all people
8."Winging" the interview
9. Failing to set yourself apart from other candidate
10. Falling to ask for the job
4 QUESTIONS MOST LIKELY TO BE ASKED
1. What was your experience like at…?
2. Why do you want to work for us?
3. What do you know about our company?
4. Why did you leave your job previous job?
4 MOST IMPORTANT INTERVIEW TIPS
1. Learn about the organization
2. Have a specific position in mind that you'd like to fill
3. Review your qualifications for the job
4. Be ready to briefly describe related experience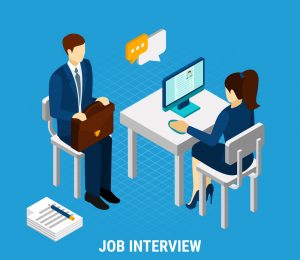 Business people isometric background with human characters of recruitment consultant and job candidate with editable text vector illustration
THREE TOUGH QUESTIONS
1.INTERVIEWER: 'WHY SHOULD I HIRE YOU?"
YOUR RESPONSE: Illustrate why you are the most qualified candidate. Do this by reviewing the job description and closely identifying to the skills hated. Then, cite experiences from your past that correlate to those skills and knowledge.
2. INTERVIEWER: "TELL ME ABOUT YOURSELF,"
YOUR RESPONSE: This is likely a worm question, hut don't go through your resume point. By-point Keep your answer to a minute or…
Cover four topics: easy years, education, work history, and recent career experience.
3. INTERVIEWER: "WHAT WOULD THE PERSON WHO LIKES YOU LEAST IN THE WORLD SAY ABOUT TOP"
YOUR RESPONSE: Note a part of your personality that might seem negative but is rosily positive. An example could be impatience. While this could be bad in the workplace, you could spin it in a way that stresses timeliness and driving deadlines.
BE PREPARED FOR ANYTHING.
Sometimes, it's hard to gauge what will come next from your interviewer. Here are five weird, but real, Interview questions asked last year.
"WHAT'S YOUR FAVORITE SONG? PERFORM IT FOR US NOW."
-asked at Living social to an Adventures City managerial candidate
"HAVE TOO EVER STOLEN A PEN FROM WORK?"
-asked at Jiffy Software, to an software architect candidates.
"H0W MANY COWS ARE IN CANADA?"
-asked at Google, to a local data quality evaluator candidates.
"HOW WOULD YOU DIRECT SOMEONE ELSE ON HOW TO COOK AN OMELET?"
—asked at PETCO, to an analyst candidates.
REMEMBER TO DO YOUR RESEARCH, EXUDE PROFESSIONALISM, AND BE YOURSELF AT YOUR NEXT INTERVIEW. GOOD LUCK!