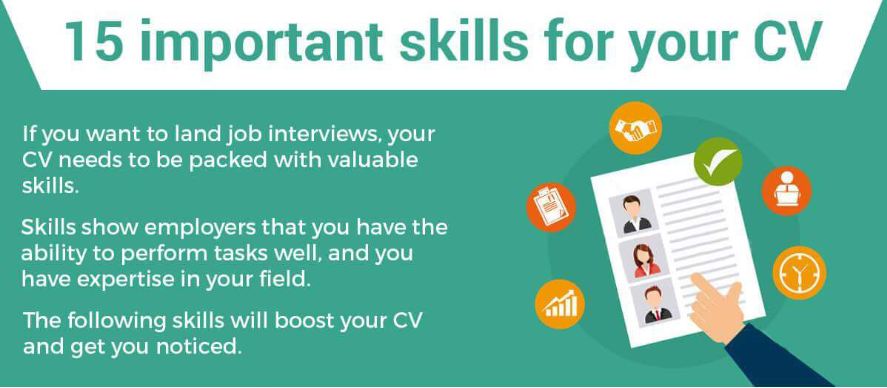 If you want to crack job interviews, your CV needs to be packed with valuable skills. Skills show employers that you have the ability to perform tasks well, and you have expertise in your field.
The following skills will boost your CV and get you noticed. For more simpler clarification, you must watch out our video on this:

FINANCIAL SKILLS: Every organisation requires a healthy balance sheet, so finance based skills are always an asset.

▶ Budgeting: Budgeting is the process of creating a plan to spend your money.
▶ Forecasting: Forecasting is the process of making predictions of the future based on past and present data and most commonly by analysis of trends.
▶ Cost cutting: Cost cutting refers to measures implemented by a company to reduce its expenses and improve profitability.
SALES & MARKETING SKILLS: Sales and marketing are essential to any business, so it pays to have some relevant skills in your arsenal, even if you're not in a sales role.

▶ Relationship management: The supervision and maintenance of relationships between a company and its external partners, especially its clients.
▶ Negotiation: Negotiation is a method by which people settle differences. It is a process by which compromise or agreement is reached while avoiding argument and dispute.
▶ Product knowledge: Product knowledge is an essential sales skill. Understanding your products' features allows you to present their benefits accurately and persuasively.
TECHNOLOGY SKILLS: Technology powers business in today's world so it's vital that you have some tech skills on display in your CV.

▶ Coding: Coding refers to creating computer programming code. In a more general sense, the word coding is used to refer to assigning a code or classification to something.
▶ Testing: Software testing is an investigation conducted to provide stakeholders with information about the quality of the software product or service under test.
▶ Software systems: A software system is a system on intercommunicating components based on software forming part of a computer system (a combination of hardware and software).
MANAGEMENT SKILLS: The management of people, time and resources is vital in the workplace, so ensure that you highlight management skills in your CV.

▶ Leadership: According to the idea of transformational leadership , an effective leader is a person who does the following: Creates an inspiring vision of the future. Motivates and inspires people to engage with that vision.
▶ Strategy: A method or plan chosen to bring about a desired future, such as achievement of a goal or solution to a problem.
▶ Process improvement: Process Improvement is the proactive task of identifying, analyzing and improving upon existing business processes within an organization for optimization and to meet new quotas or standards of quality.
SOFT SKILLS: Soft skills are applicable to most roles so it's important to demonstrate you possess them.

▶ Communication: Communication is simply the act of transferring information from one place, person or group to another.
▶ Motivation: This comprehensive guide covers the science of motivation and delivers useful motivation tips so you can learn how to motivate yourself and others.
▶ Problem solving: Problem solving in psychology refers to the process of finding solutions to problems encountered in life.