Computer Science
Java Programming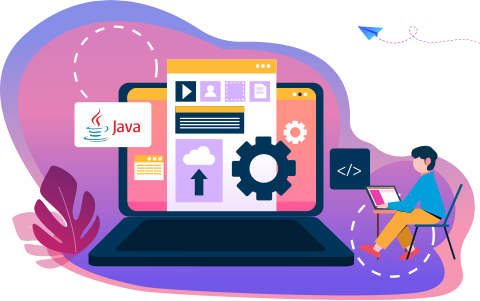 Actual Price
₹1499.00 94% Off
Course Features
Online Interactive Learning Sessions
Practical Videos For Covering Course
Complete eBook with Assignments
Practice Project are also provided for practice
Practice Projects based on actual business transaction
Course Related Blogs & Articles
100% Job Assistance
Access on All Device
24*7 Lifetime Access
ISO 9001 : 2008 Company
Internship Programme for Learners
Govt. Recognized Certificate
One of the Finest Education Brand in India
What you'll learn
Class n object

Array of object

Interface

Abstract data type

Polymorphism

Inheritance

Applets

Exception handling
Requirements
Be able to operate PC.
Basic knowledge of C / C++ programming
What placement assistance will you receive?

Free Placement Preparation Training

Access to curated Internships & Current Job Openings.

Top performers will be highlighted on Attitude Job portal
Requirements
To learn Java Programming language you should have a basic understanding of Computer Programming terminologies, C and C++. Java programming language was originally developed by Sun Microsystems which was initiated by James Gosling and released in 1995 as core component of Sun Microsystems Java platform (Java 1.0 [J2SE]).
The latest release of the Java Standard Edition is Java SE 10.0.2. With the advancement of Java and its widespread popularity, multiple configurations were built to suit various types of platforms. For example: J2EE for Enterprise Applications, J2ME for Mobile Applications.
The new J2 versions were renamed as Java SE, Java EE, and Java ME respectively. Java is guaranteed to beWrite Once, Run Anywhere.
Course Circullum
MODULE- I
Unit 1: Object Oriented Methodology-1 Paradigms of Programming Languages, Evolution of OO Methodology, Basic Concepts of OO Approach, Comparison of Object Oriented and Procedure Oriented Approaches, Benefits of OOPs, Introduction to Common OO Language, Applications of OOPs.

Unit 2: Object Oriented Methodology-2 Classes and Objects, Abstraction and Encapsulation, Inheritance, Method Overriding and Polymorphism.

Unit 3: Java Language Basics Introduction To Java, Basic Features, Java Virtual Machine Concepts, A Simple Java Program, Primitive Data Type And Variables, Java Keywords, Integer and Floating Point Data Type, Character and Boolean Types, Declaring and Initialization Variables, Java Operators.

Unit 4: Expressions, Statements and Arrays Expressions, Statements, Control Statements, Selection Statements, Iterative Statements, Jump Statements, Arrays.
MODULE- I
Unit 1: Class and Objects Class Fundamentals, Creating objects, Assigning object reference variables, Introducing Methods, Static methods, Constructors, Overloading constructors, This Keyword, Using Objects as Parameters, Argument passing, Returning objects, Method Overloading, Garbage Collection, The Finalize ( ) Method.

Unit 2: Inheritance and Polymorphism Inheritance Basics, Access Control, Multilevel Inheritance, Method Overriding, Abstract Classes, Polymorphism, Final Keyword.

Unit 3: Packages and Interfaces Package, Defining Package, CLASSPATH, Package naming, Accessibility of Packages, Using Package Members, Interfaces, Implementing Interfaces, Interface and Abstract Classes, Extends and Implements Together.

Unit 4: Exceptions Handling Exception, Handling of Exception, Using try-catch, Catching Multiple Exceptions, Using finally clause, Types of Exceptions, Throwing Exceptions, Writing Exception Subclasses.
MODULE- I
Unit 1: Multithreaded Programming Multithreading: An Introduction, The Main Thread, Java Thread Model, Thread Priorities, Synchronization in Java, Interthread Communication.

Unit 2: I/O in Java I/O Basics, Streams and Stream Classes, Byte Stream Classes, Character Stream Classes, The Predefined Streams, Reading from, and Writing to, Console, Reading and Writing Files, The Transient and Volatile Modifiers, Using Instance of Native Methods.

Unit 3: Strings and Characters Fundamentals of Characters and Strings, The String Class, String Operations, Data Conversion using Value Of ( ) Methods, String Buffer Class and Methods.

Unit 4: Exploring Java I/O Java I/O Classes and Interfaces, I/O Stream Classes, Input and Output Stream, Input Stream and Output Stream Hierarchy, Text Streams, Stream Tokenizer, Serialization, Buffered Stream, Print Stream, Random Access File.

Unit 5:applets Applets The Applet Class, Applet Architecture, An Applet Skeleton: Initialization and Termination, Handling Events, HTML Applet Tag.
How will your training work?

Classes
Watch recorded & live videos to learn various concepts & get Live Sessions with Trainer for Doubts Clearing.

Exams
Test your knowledge through quizzes & module tests. Take online exam & get instant result.

Projects
Get hands on practice by doing assignments and live project

Certificate
Take the final exam to get certified in Java In-Depth: Become a Complete Java Engineer
Oh snap! Course reviews Not Found Now. Please try Again Later.
How will your doubts get solved?

You can post your doubts on the Q&A forum which will be answered by the teachers within 24 hours.
100% Placement Assistance
Meet Our

Placed Students
Commonly Asked Questions
Q. What are the prerequisites for the training?
There are no prerequisites for this training as it is of beginner level. Everything that you need to know about Java In-Depth: Become a Complete Java Engineer would be taught to you from scratch.
Q. Do I need to have a laptop or desktop to do the training or can I do it on mobile too?
You can watch the videos and take quizzes & tests on any device including mobile. However, for assignments and practice, use of desktop or laptop is required.
Q. What system configuration is needed to do this training?
To do this training, you would need a computer with a minimum 1 GB ram and Windows 8 or later (64 bit).
Q. When can I start the training?
You can choose your preferred batch date while signing up for the training program and start accordingly.
Q. Will I be getting a hard copy of the certificate?
No, you will be only getting a soft copy of the certificate which you can download and print out if required.
Q. What placement assistance will I receive from Attitude as part of the training?
You will receive free access to Placement Preparation Training on the platform which covers resume writing, cover letter writing, how to search and apply for internships and jobs on Attitude, and interview preparation. This training comes with a lifetime access meaning you can use it later also if you are not applying for internships or jobs right now.
Access to curated internships & jobs related to the training - after completing the training, you would receive a list of handpicked internships or jobs every week that you can apply to as per your preference.
If you are a top performer, a badge of achievement will be added to your Attitude resume and shown to the employers when you apply to internships or jobs on Attitude.
Q. Does Attitude Trainings guarantee a job or internship placement?
While many of our students have found their desired internships or jobs after completing their training, Attitude Trainings does not guarantee an internship or job. However, if you study sincerely (including doing exercises, assignments, and projects) and make good use of our placement assistance feature, it will become easier for you to get a placement using the skills learned in the training.
Q. I'm not able to make payment. What should you do now?
You could try making the payment from a different card or account (of a friend or family). Otherwise, you can follow the instructions on how to make an offline payment.
Q. The payment shows failed but money got deducted? What should I do now?
The amount deducted will come back to your account within 3-5 working days. This is the normal duration your bank will take to credit the amount back into your account.